News Archive
Seattle Week in Chongqing and Beyond:

• Visit 8th China–Chongqing International Garden Expo
• Choose Cultural/Educational or Business Exploration Tracks
• Depart Seattle on March 16, with flexible return dates.
The Garden is excited to announce plans for the March 18–23 "Seattle Week in Chongqing" led by prominent Seattle city leaders. Chongqing is a vibrant, booming city set in a dramatic mountain and river landscape in Southwest China. Our Chongqing government partners are organizing an excellent array of programs for the two delegation tracks. Highlights will be the 8th China-Chongqing International Garden Expo showcasing more than 70 gardens from diverse regions of China and around the world, including our Seattle-style garden, and a welcome banquet hosted by high-level Chongqing officials.

Visit the following links for more program details, travel costs, and registration forms:
Chinese Girls Drill Team Shines in Knowing the Spring Courtyard
 
The gray skies on Sunday, May 15 did not dampen spirits for the Open House Celebration. A crowd of several hundred people enjoyed martial arts demonstrations, traditional dance performances, and the spectacular precision and sparkle of the Seattle Chinese Community Girls Drill Team. For more photos and story on Dedication Day events, visit the
blog
.
Spring Festival Gala a Great Success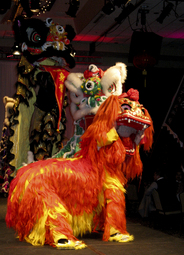 A dynamic, colorful lion dance energized the crowd of nearly 600 at the Hong Kong Association of Washington (HKAW) Foundation's annual Chinese New Year Gala.  The primary beneficiary of the event was the Seattle Chinese Garden. The estimated $100,000+ raised will support continued site work and general operations.
During the dinner, Consul General Gao Zhansheng commended "our friends in this city and state" for major progress in Garden construction, predicting it will become "a landmark cultural center symbolizing the longstanding friendship and fruitful cooperation between Chongqing and Seattle, between Sichuan and Washington, and between China and the U.S."
Benjamin Lee, Andy Yip, Stan Wu, Homing Tam and other HKAW leaders deserve a huge thank you for their generosity and commitment to the Chinese Garden. We wish everyone who has contributed to the vision of the Seattle Chinese Garden a most fruitful and fortunate Year of the Rabbit.
Consul General Gao Zhansheng of the People's Republic of China, San Francisco Consulate, and his wife, Ms. Wang Yanlai, toured the courtyard with four other consulate colleagues – our first official visitors of the day. General Gao applauded its beauty and Sichuan-style authenticity and expressed the desire to host consular events there on future visits to Seattle.  

Farewell to the Artisans and Thank You to Volunteers
The Chinese artisans finished their work earlier than expected, and flew home on November 10, timing that precluded planning a public farewell event. Instead, Garden leaders, staff, and core volunteers expressed their enthusiastic thanks for a job well done at an informal dinner on November 9 at Imperial Garden Seafood Restaurant. Gifts to the artisans included a wonderful book of photos taken during construction of Knowing Spring Courtyard.  Speakers toasted their extraordinary craftsmanship and their dedication to building Knowing Spring Courtyard with heart, spirit, and skill.

The event also put the spotlight of gratitude on the numerous volunteers (on the right Jeni Mar and Helen Lum) who ensured an excellent stay in Seattle for the artisans. Volunteers planned and escorted the artisans on field trips, welcomed them into their homes for barbecues and even a Halloween party, served as translators, and helped many other ways. 
Extra special thanks go to the volunteers who made sure the artisans received lunches and dinners on time by picking up meals donated by restaurants and delivering them to the Chan Center — keeping the artisans well fed was a most critical task! The artisans arrived on August 6 as strangers, but thanks to our dedicated volunteers, they left on November 10 as old friends — 老朋友。
Spots Just Opened for Garden 2011 Tour
A family dropped out of the Chinese Gardens tour for next April (April 1-18)  – and several spaces have opened up! Please consider this wonderful, rare chance to join this incredible itinerary with garden and tour experts!  One of the stops on the itinerary, the Humble Administrator's Garden, in northeastern Suzhou, has been listed as one of the fourmost famous national classic gardens together with the Summer Palace,Mountain Summer Resort in Chengde and Lingering Garden of Suzhou. Thegarden is a masterpiece of Ming Dynasty Chinese classic garden.   
Look Who's Been Visiting the Garden …
A stream of high-profile public officials and other visitors have flowed through Knowing the Spring Courtyard over the past two months.
Congressman Jim McDermott came for a look on October 7, welcomed by an enthusiastic group of Garden supporters including Benjamin Lee (chairman of the Hong Kong Association of Washington) and Christine and Omar Lee (owners of the Great Wall Mall). McDermott chatted with the project directors, asked questions about the rockery being placed in the pond, and lingered in the seating pavilion outside the northeast corner.
McDermott remarked on his role in helping to establish the Seattle-Chongqing sister city relationship in the early 1980s, and his delight in seeing this friendship between the cities manifest in the courtyard and vision for the full Garden (blog link).

US Commerce Secretary Gary Locke stopped by on September 20 with his good friend Jerry Lee, chairman of Mulvanny G2 Architecture (blog link).

          Congressman McDermott talks with Project Director Yangming Chu
Hethanked the artisans for their wonderful work, saying "You are creatinga beautiful garden here in Seattle. This is an important project thatwill help build stronger relations between China and the United States."


Other prominent visitors over the past two months include Lt. Governor Brad Owen, Seattle City Councilmember Sally Bagshaw, King County Councilmember Jan Drago, Former mayor Charles Royer, State Legislature Representative Bob Hasegawa; Bill Stafford, president of the Trade Development Alliance of Greater Seattle; Paige Miller, president of the Washington Park Arboretum Foundation; and Professor Jerome Silbergeld, Chinese art historian and director of Princeton University's Tang Center for East Asian Art.
US Secretary of Commerce Gary Locke greets the artisans
Garden leaders and volunteers have been equally thrilled to show off the courtyard to members of local garden clubs, docents from the Seattle Art Museum and the Seattle Japanese Garden, architects and landscape architects, Chinese language teachers and students, and many other community groups and organizations. Come visit too!
For "inside" stories on the courtyard construction, the artisans, and visitors, check out the Garden Blog. 
Knowing the Spring Courtyard is Complete
We are currently deep into the preparations for our public opening at the end of December.  All public tours have been suspended until after the New Year.  The Courtyard is complete, the artisans have returned home safely – it's so hard to believe the amazing transformation!  In early August, Knowing the Spring Courtyard was an austere concrete structure with bare steel columns. Now the ornate entrance gate and tile-roofed walkways are finished and a beautiful coat of paint enhances the exquisite woodwork.


Late afternoon sun casts patterns through the lattice windows on the northwest corner of the main gate

.
The corner pond and its rockery are just about ready for an infusion of water, while the stone "mountain" in the southwest corner awaits the softening green of trees and shrubbery.  Our hardworking artisans have completed their work and returned to China, but there is still so much to do.


We'll keep you posted on plans and winter openings for tours in the new year.  Keep in mind the big celebration which will be a formal dedication ceremony in late spring when good weather returns and the courtyard plants will be in bloom.
谢谢! Thank you — to all members, friends, donors and volunteers for your enthusiasm and the countless contributions that have brought us so close to opening.
                                                                                                                  Artisans take a break after installing the rockery for the source pond.
Save the Date  ◆  Saturday evening, February 5, 2011
Hong Kong Association of Washington Foundation
Chinese New Year Gala
Proceeds benefit the Seattle Chinese Garden!
The biggest and best Chinese NewYear celebration in town features a rousing lion dance, David Lawrencefashion show, and more. Especially exciting news is that proceeds fromthe silent and live auctions will support the Seattle Chinese Garden.Can you contribute an unusual or exceptional item or experience for thesilent auction (minimum value $300) or live auction (minimum value$1200)? Your donation will contribute to the success of the evening.Please call or email Margaret Britton (206-523-4113,margaret.britton@gmail.com) by December 31st with your idea for an auctionitem.
Experience Immortality in the Seattle Chinese Garden!

Anytree or plant you donate to the Seattle Chinese Garden will become along-living testimonial to your support of the Seattle Chinese Garden.What better way to express your love of nature and gardening than bydonating a needed plant or a cash equivalent for the Society topurchase in your name?
Pinus parviflora

We are especially interested in mature specimens, which the Society candig and transplant if it is in a home garden. We have a special needfor the plants listed below, but would like to talk with you regardingany Chinese-origin plant, or its cash equivalent, you are willing todonate.
Magnolia denudata (2); Pinus parvifolia (7); Pinus tabulaeformis (7); Malus halliana (1); Koelreuteria paniculata (1); Photinia serratifolia (5); Pinus bungeana (2); Prunus serrulata (3); Rhododendron mucronatum (1).
  Artisans Raise Top Beam Over Courtyard Gate
Artisans pose after raising the top beam for KSC ceremonial gate. The red band signifies auspiciousness, happiness, and harmony.
Construction Milestone!   The crackle of fireworks kept evil spirits away, and cheers from Seattle Chinese Garden volunteers, staff, and supporters celebrated placement of the topmost beam in Knowing the Spring Courtyard on August 31. Not even the gloomy weather dampened human spirits.
Please check the blog for more details and updates on construction progress and the West Seattle Herald for fantastic coverage with a wonderful video. 
Artisan Welcome Party Big Success!
Sunday, August 22 was a beautiful celebration day – the welcome party for the Chinese artisans was attended by several hundred people from all over Seattle.  The artisan demonstrations were particularly well attended. Stories and more photos to come. West Seattle Herald covered the event and posted a wonderful article and slide show.  Come back to the Garden and watch our progress!
Check out our new BLOG for additional stories and artisan updates!
Brick Campaign Kickoff Dinner Big Success!
Jon Geiger, SCGS president (far right), presents inscribed bricks to Chinese Community leaders:(from left) Benjamin Lee,

Charlene & Jerry Lee, Christine & Omar Lee, Tian Ho Tien,Wei Fang, and Faye Hong
Our most recent fundraising initiative launched June 19 with a Brick Campaign Kickoff dinner at the House of Hong in the Chinatown/International District. With the support of leaders in the Chinese community and a great turnout of 300 people, the event raised more than $45,000. Consul General Gao Zhansheng of the People's Republic of China Consulate in San Francisco spoke with great enthusiasm about the Seattle Chinese Garden as a landmark symbolizing the many important ties between China and our region and state. Stay tuned for a report on the dinner with more photos and information onordering personalized engraved bricks soon!
Major leadership gifts from the Municipality of Chongqing, the State of Washington, City of Seattle, King County, the Miller and Norcliffe foundations, private individuals, organizations, and corporations have contributed close to 70 percent of the $4.5 million cost of building the courtyard. Our funding goal is in sight, and with continued support from Garden members and friends over the next few months, we can open the courtyard to the public in late fall. 
http://www.seattlechinesetimes.com/english/local-news/2426-chinese-community-raises-more-than-45000-for-seattle-chinese-gardens-first-courtyard
June 19th Community Dinner Kicks Off Brick Campaign
The 27 skilled artisans from China this summer will construct the traditional gate, the tile-roofed walkways, intricate windows, and garden area for Knowing the Spring Courtyard. Every person who buys a personalized, engraved brick will help Seattle build an international landmark while creating a permanent legacy to honor family and friends. Thousands of bricks will reflect our diverse community and personal support for the Seattle Chinese Garden.
Special guest of honor at the June 19th dinner is Consul General Gao Zhansheng of the People's Republic of China Consulate in San Francisco. Please join us! Attendees of the Brick Campaign launch even will be able to purchase bricks at a special promotional price. Detailed pricing and order information will be available on the website after June 28th.
Opening the Garden Gate a Huge Success!
太好了!



A high-spirited crowd filled the Imperial Garden Seafood Restaurant on November 10, raising $115,000 for the next stage of construction for Knowing the Spring Courtyard. "The great turnout and enthusiastic support from many old and new friends gives us a big push to forge ahead to complete Knowing the Spring Courtyard," remarked Jonathan Geiger, Seattle Chinese Garden Society  president. "We extend special thanks to our honorary co-chairs and hosts Christine and Omar Lee, owners of the Great Wall  Mall, for their extraordinary support and commitment to the garden project, and for the countless ways they contributed to the success of the evening." 
During the "Opening the Garden Gate" benefit dinner, the Garden Society honored Jerry and Charlene Lee for outstanding contributions to the community. From left are event honorary co-chairs and Great Wall Mall owners Omar and Christine Lee, SCGS president Jon Geiger, Charlene Lee, SCGS vice president Jim Dawson, and Jerry Lee, chairman of Mulvanny G2 Architecture.
Docents Finish Busy 2009 Season
Over one hundred visitors from near and far joined our monthly docent tours this year. They watched a slide presentation on the magic of Chinese gardens, learned about Chinese plants in the South Seattle Community College arboretum, toured the construction of KSC, and enjoyed the garden at Song Mei Pavilion. In addition to regularly scheduled tours, docents introduced garden clubs, civic groups, and students from grade school up to college age to the garden project.
Thank you to docent program coordinator Judy Koenig and docents Sandy Marvinney, Leeh McArthur, Anne Potter, Margaret Rothchild, Lorraine Toly, Dewey Webster, and Jan Whitner for continuing to engage and inspire our visitors.
Docent Program Hits 10-Year Milestone
A photo from one of first docent programs shows a group of enthralled grade school children watching a master stone carver from Chongqing putting the final touches on a small sandstone "Happy Buddha" (left). Since the spring 1999 construction of Song Mei Pavilion, the docents have introduced the Chinese Garden project to thousands of Seattle area residents of all ages and visitors from afar. Board member Judy Koenig, Garden Society president at the time, created the docent program with the goal to present construction of Song Mei Pavilion as an engaging educational experience for the community.

Dr. Peter Ku Retires
Dr. Peter Ku has decided to retire from the Seattle Chinese Garden Board. He has been an active and productive member of the team for many years. Please join the Society Board and Staff members in thanking Dr. Ku for his long and distinguished service. We wish him well in his future endeavors!
Visit From The
West Seattle Blog
The West Seattle Blog visited the garden recently.
Click here
to read their article and see new pictures of the site.
Seattle author Wendy Liu Donates Share of Book Sales to the Chinese Garden
Seattle author Wendy Liu is making copies of her new book available to Garden Society members and friends, with 50% of the proceeds contributed to the garden. We offer you her new book "Everything I Understand about America I Learned in Chinese Proverbs," which contains 39 essays, developed around 39 Chinese proverbs/sayings and based on 39 of her experiences and observations in America. Order your copy here and help the Seattle Chinese Garden grow, too!
An $8,000 Match for the Garden
The Seattle-Chongqing Sister City Association (SCSCA) isoffering the Garden $8,000 for a matching challenge. The funds raisedwill bring us another step closer to completing construction of Knowingthe Spring Courtyard. Here is how it works:
The first sixteen friends to pledge $500 will see their gift matched with$500, for a total of $16,000 in new support for Knowing the Spring Courtyard. These "Super Sixteen" donors will be recognized on thecourtyard donor plaque and will be acknowledged in the next Gardennewsletter.
Giftsof all sizes are welcome, and all donors from #17 on will beacknowledged in the upcoming newsletter. Those who make gifts greaterthan $500 will be recognized as "Matching Circle Patrons" and on thecourtyard plaque at the appropriate giving level.  Help us widen thecircle of
Seattle Chinese Garden supporters at all levels.
So,please make your pledge and be one of the first sixteen to magnify yourgift through the matching funds. Checks should be made payable to SCGS,6000 16th Ave SW, Seattle, WA 98106 with "Sister City Match" written onthe note line. You may also make your payment via PayPal by going here.
谢谢
— and thank you
Seattle-Chongqing Sister City Association!
Master Creates a "Chinese Bonsai"
ThePuget Sound Bonsai Association welcomed members of the Seattle ChineseGarden Society on June 22, 2009 to the Center for Urban Horticulture.
Robert Cho, a long-time supporter of SCGS, created a specimen penjing (Chinesefor Bonsai), using traditional Chinese techniques. Jan Whitner,an SCGS board member and horticulturist, gave a short presentation onthe Seattle Chinese Garden's plans and distributed Gardenliterature. The Garden will eventually display a collection of penjingin a dedicated courtyard and will have a nursery in which penjing aredeveloped.
Volunteer Garden Clean-Up Party
Volunteersspent Saturday, June 6 helping us prepare the garden forsummer. Pictures are posted below! Are you intersted in signing up forour next volunteer garden clean-up? Please contact us at
volunteer@seattlechinesegarden.org
. 
 
 
Volunteers atthe garden (top left and right). Docent Dewey Webster weeding (bottomleft). Frank Su and Jade Wang cleaning up (bottom right).


The
Seattle
Chinese Tea Appreciation Festival
Tea from China is one of the greatest gifts to world civilization. On October 12, 2008 the Seattle Chinese Garden society joined with Black Dragon Tea Bar to present the second annual Seattle Chinese Tea Appreciation Festival. Brett Boynton, sponsor of the event and the gracious and knowledgeable owner of Black Dragon, assembled almost forty tea lovers at the
Chan Education Center to sip a wonderful selection of oolong and pu-erh teas and sample delicious vegan treats.
 
As part of the program, Garden board member and docent Jan Whitner presented a slide show on Chinese gardens and led a tour of the building site of the current construction project, the Knowing the Spring Courtyard. Participants left the event having enjoyed great tea, great conversation, and a peek at the foundations of the 
Seattle Chinese Garden . The society looks forward to the day tea lovers will savor "two leaves and a bud" in the Garden teahouse – a unique structure to be built in Sichuan 
architectural style and sited on a Lotus Pond. For information on how to support fundraising efforts for the teahouse, please phone the society office at (206) 282-8040.

Happy people at the garden(top left). Brett Boynton brewing tea for the guests(top right). Jan Whiter describing the garden(bottom).
The Boeing Company Contributes $20,000 to Chinese Garden
In October, 2008 the Boeing Company generously contributed $20,000 to the Seattle Chinese Garden Society to support capacity building.
Garden Society Hosts Officials from Changshu Garden Company
The Seattle Chinese Garden Society hosted three high-level officials from the Changshu Classical Garden Construction Company for a week in early September. The Chongqing Garden Bureau has contracted with the Changshu company to manage the construction of the traditional elements of Knowing the Spring Courtyard. The officials visited the site to see the completed foundation work and met with Garden Society leaders and our local contractor to plan for the completion of construction.
COSCO Container Arrives in Seattle April 4, 2008
C

hina

O

cean

S

hipping

CO
mpany has generously donated up to forty 40-foot containers to transport China-fabricated materials for the Garden. The first of these arrived in Seattle carrying stone foundations for the wooden columns that will hold up the roof of Knowing the Spring Courtyard.

Greeting this first shipment are:
Tim Banks-COSCO Seattle, Mike Craig, Jon Geiger-SCGS President and Yangming Chu-SCGS Executive Director
Chongqing Gives $1.2 Million for the First Courtyard
We have received a gift valued at 1.2 million US dollars from our sister city of
Chongqing.
Chongqing has donated all materials, labor and associated in-China costs for Knowing the Spring Courtyard, the second traditional structure in the Garden. We anticipate opening this first courtyard in the fall 2010. Artisans from
Chongqing will arrive in spring 2010 to assemble the components using traditional tools and construction methods. Special educational programs will be offered at the site while the artisans are here.